Free Pick-up and Delivery

Are you ready to stop driving to and from the cleaners? Great! You are about to begin one of the best services going: our free pick-up and delivery service.  You won't believe how simple and easy it is.
WaterStone offers regular, twice weekly pick up and delivery service. You receive a reminder text about 7:00 pm the night before. If you have something, reply "Yes", if you don't need us, reply "No". If you forget and don't reply, no worries, we swing by just in case.
Just back from a trip or vacation and need a quick turnaround? Just text us and we will drop what we are doing and come get you taken care of!
Simply email us your information and we will call you to begin your free pick-up and delivery service with WaterStone Dry Cleaning. Delivered.  Our email address is service@waterstonecleaners.com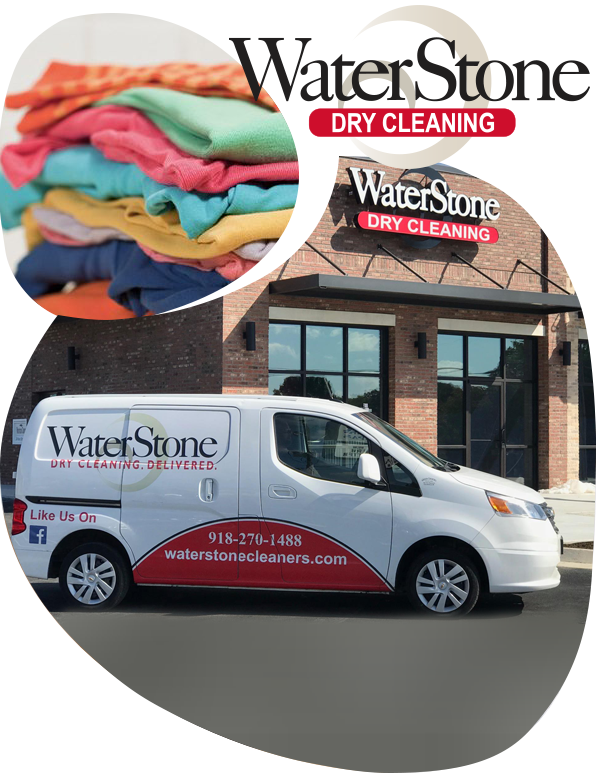 Frequently Asked Questions About Our Delivery Service
Who is actually cleaning my garments?
We own and operate our own state of the art processing plant.  Our equipment uses the latest in technology advances to ensure that your clothing is cleaned and cared for properly.
We are the leader in providing the highest quality dry cleaning and laundry valet services in the area. This is because we only use the best equipment and we control the entire process. Our cleaning service is used by several local hospitals, so you know it's clean and sanitary.
How do I handle special one time requests?
On your bag, we have provided a "Special Request Card" for you to send us a note for the garments in bag. We will follow your instruction to the letter. If we have any questions, we will call you at the number you have provided. You can also text us your special requests. It will post in your account. We will see it and handle it.
Where do I put my clothes for pick up and delivery?
Most of our customers have their service provided to their front porch. At a minimum, your pick up and delivery area needs to covered from the weather.
How do you deliver my items back to me?
We can provide a wreath hanger over your front door or mailboxes, door knockers, etc have been used successfully in the past.
Do you accept coupons?
We do accept coupons at our retail stores. A maximum of 2 can be used per order. However, due to the added expense of delivery vans and personnel, we cannot accept coupons for our delivery service.
Do you practice responsible recycling practices?
At WaterStone we want to do our part to keep our environment clean and not add to the landfills wherever possible
One way we found to help in this area was recycling hangers and poly bags.
If you are an existing delivery route customer, you can place used hangers and poly bags in your black WaterStone bag, along with your items to be cleaned. Or, if you wish, we can provide you with a recycling box and you can exchange it when it is full for an empty box. Customers can also pick up a recycling box from the store and return it to us when it is full.
How do I get my shoes shined?
Just put them in with your cleaning. We will professionally shine them and deliver them back to you on your next service day.
Is there a charge for delivery?
Absolutely not. We are honored that you would allow us the opportunity to serve you. We don't have any delivery fees or invoice minimums. If you have spaghetti on one tie and need it for an upcoming meeting, let us know, we'll come get it!
Do I have to be home for delivery?
You do not have to be home for our service. That's what makes it so convenient. On your service day, simply put your garments in the bag we provide and place them on your front porch. We will pick them up and deliver your clean garments to you at the same time. Once we have successfully made your pickup or delivery, you will receive a confirmation text. You're always in the loop!
How often do you pick up and deliver?
We pick up and deliver twice per week. You will be serviced on Monday and Thursday or Tuesday and Friday. We pick up and deliver each time we stop to serve you. You will receive a reminder text the evening before. You can skip a day(s) by a simple "No" reply. It's really quite simple.
Are my items safe from theft?
In all of our years of experience, we have never had an incident of theft occur with one of our customers. If you are still concerned, we can deliver to an area you choose, that is hidden from view.
What are my payment methods?
We gladly accept Visa, Mastercard, American Express, Discover and debit cards. We accumulate your charges throughout the month. On the last business day of the month, we will bill your credit card for your monthly charges.
What do I put my garments in for pick up?
We will provide you with a WaterStone branded laundry bag for pick up. We will personalize your bag with your name and a unique bar code for your account. When we return your garments to you, we will return your garment bag also.
Do you use an environmentally friendly process?
We are proud that we use only environmentally friendly, odorless, non-toxic cleaning agents in our processes. We DO NOT USE perchloroethylene. Perchloroethylene is a solvent that has been used in dry cleaning for decades. Our cleaning solutions are odorless and do not harm your health or the environment.
WaterStone Cleaners is "GREEN" Certified
We are proud to be a part of helping environmental sustainability through our eco-friendly dry cleaning services. Achieving environmental sustainability is an important goal and an ongoing process. Through recycling hangers, plastic, and cardboard, as well as Ozone injection cleaning solutions, we have become certified with Green Cleaner Council by contributing to a greener solution.

Contact WaterStone
Owasso: 918-272-2424
Pick-Up & Delivery: 918-270-1488
Email: service@waterstonecleaners.com

Tulsa Dry Cleaning. Delivered.
WaterStone delivers quality, full-service dry cleaning and garment repair. Choose on-site or FREE pick-up and delivery for all your dry cleaning needs.
Since 2006, we've earned a reputation for both quality and dependability. With same-day and twice weekly dry cleaning pick-up and delivery, WaterStone Dry Cleaning in Tulsa & Owasso can't be beat.
WaterStone is DRY CLEANING. DELIVERED.